Violins and Hope
From the Holocaust to Symphony Hall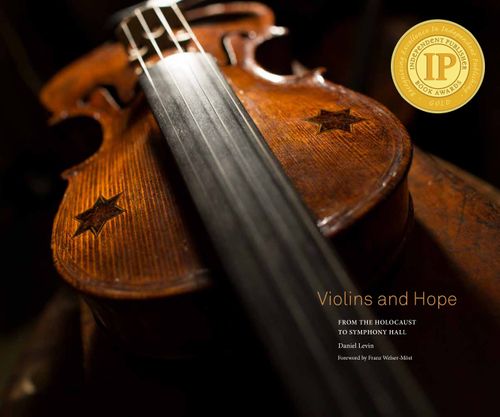 Amnon Weinstein, the renowned Israeli luthier (violin maker) who was trained by three of the most revered Italian luthiers of the twentieth century, had a vision many years ago to restore violins that survived the concentration camps and ghettos of World War II, even when their owners often did not. His "Violins of Hope" project may be one of the most creative, effective, moving, and magnificent approaches to understanding the Holocaust and how one heals from such pain and loss.
Daniel Levin is the first photographer to depict Amnon's workshop in Tel Aviv, his one-of-a-kind collection of violins that survived the Holocaust, and his artful process for restoring them. Through hauntingly beautiful photographs and compelling text, Violins and Hope becomes both an artful rendering of a very special man and a revelation of the ethereal, as we see how Amnon fulfills his dream of transforming tragedy into triumph in the most incisive and powerful way imaginable: bringing violins of the Holocaust back to life. Under Levin's care, the ambiance and idiosyncrasies of Amnon's workshop come alive, and the photographer's uncanny ability to celebrate both place and process through the beauty of light is nothing short of remarkable.
Amnon has already restored eighty-six violins to their highest playable condition, and they have been used in acclaimed performances by symphonies to packed concert halls throughout the world, beginning in Istanbul in 2001. Purposefully, Amnon makes certain that young violinists as well as the world's most famous virtuosos perform on his restored violins. In doing so, it's as if the past owners of the violins come back to life and fill our minds and bodies and hearts with joy and remembrance.
The book's foreword is written by Austrian-born Franz Welser-Möst, Music Director of the Cleveland Orchestra since 2002 and one of the most acclaimed conductors of the twenty-first century.
The book concludes with the author's interview with Assi Bielski Weinstein, Amnon's wife and the daughter of Asael Bielski, the famous partisan fighter who, along with his brothers, saved 1,247 Jews in Belarus during World War II. Assi talks about the history of violins in Jewish life and during the Holocaust, the Bielski partisans, and the enduring legacy of the "Violins of Hope" project.